BATTLE -Simple yet deep battle mechanics!-
BATTLE -Simple yet deep battle mechanics!- Dominate your opponents with deep mind games, and devastate them with stunning animations. This is KILL la KILL battle action!

Basic actions include "Normal Attack", "Guard" and "Break Attack". These actions
operate against one another much like in a game of Rock, Paper and Scissors.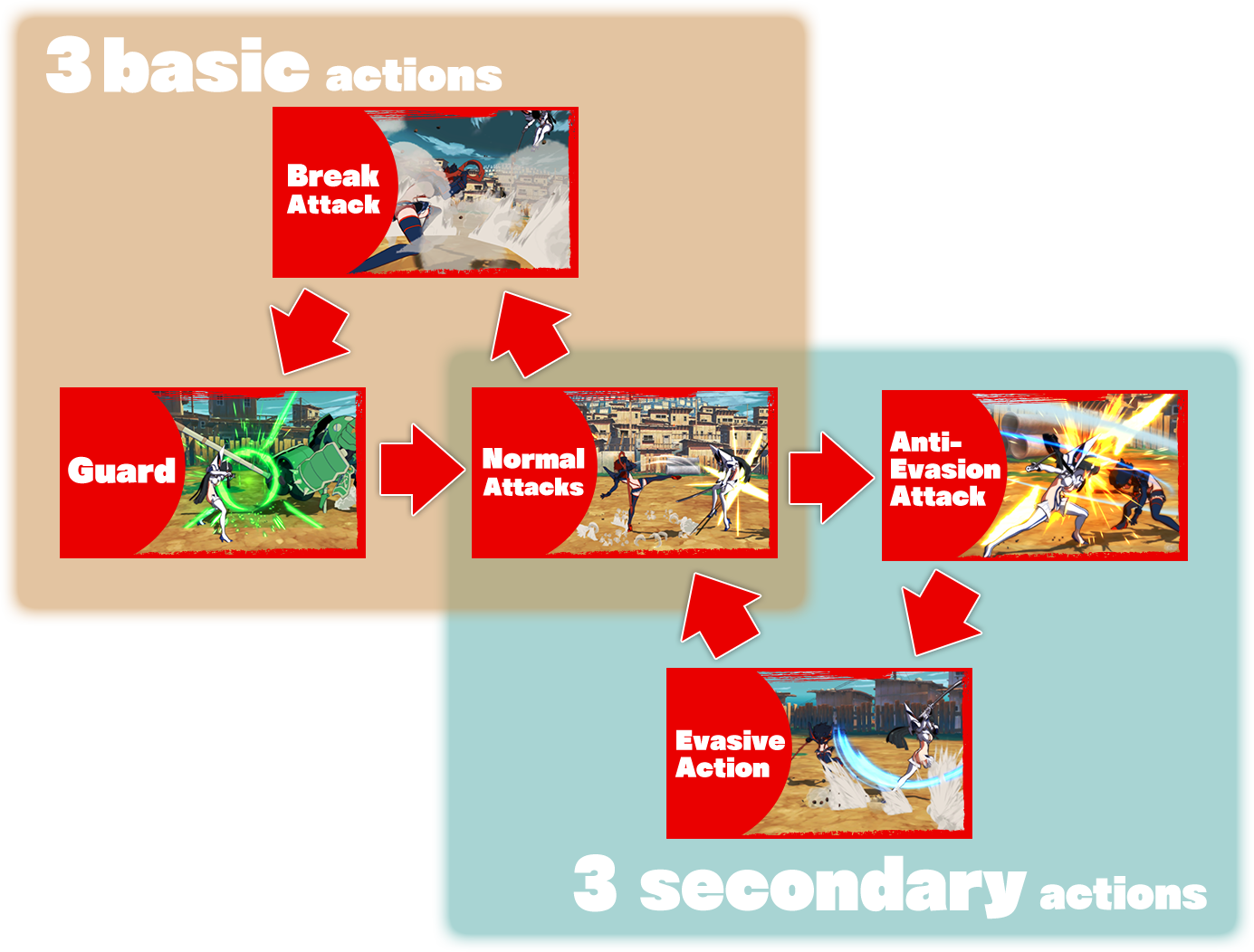 Normal Attacks

A fast attack with little openings. There are "Close Ranged Attack" and "Long Ranged Attack". Press either of the attack buttons repeatedly for auto combo!

Guard

Blocks against all normal attacks and takes no damage. However, players are unable to guard against Break Attacks.

Break Attack

A slow, wide-range heavy attack. Able to penetrate past your opponent's defenses, but leaves you wide open.
Evasive Action

Evade your opponent's attack by stepping aside or jumping. Swiftly counter-attacking against a whiffed attack is the key to skillful play.

Anti-Evasion Attack

Change your attack's trajectory, and aim your attacks to where you think your opponent will attempt to evade into. If done right, you can anticipate the evasive action and punish them greatly!

A simple offense and defense with
the 3 basic actions,
combined with the zoning
possible in a 3D space.
A new, exciting and instintive
game experience awaits!
"Evade" your opponent's "Normal attacks"!
"Dash" to close in on your opponent quickly!
Gain the upperhand in momentum
using "Long Ranged Attacks"!
Follow-up variations using the
"Anti-Evasion Attack".
Change your attack style depending on
the distance and
positioning
of you and your opponent!"
Against your opponent
stepping sideways
Against your
opponent jumping in
Charge your Long Ranged Attack
to change its Area of Effect!